Learn the Difference and Why It Matters
The Difference
Preventive care is given to you when you're symptom free and have no reason to believe you might be unhealthy. Preventive care is often given as part of a routine physical or checkup.
Diagnostic care is what you receive when you have symptoms or risk factors and your doctor wants to diagnose them.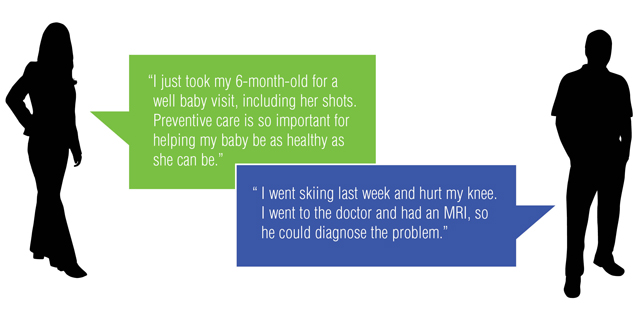 Test

When It's Preventive

When It's Diagnostic

Colorectal Cancer Screening

When given as routine test to check for early signs of cancer in accordance with age-based guidelines or family history.

When given in response to symptoms, such as bleeding.

If the doctor discovers a polyp (an abnormal growth) during your preventive colonoscopy, your doctor will often remove it and have it tested for cancer. The follow-up test is considered diagnostic.

Diabetes Screening

A blood glucose test is used to check for problems with your blood sugar control, even though you may not have symptoms.

If you have diabetes, your doctor will check your blood sugar regularly with an A1C test. The A1C test is diagnostic.
Why It Matters
Whether your visit is preventive or diagnostic can have a big affect on how much you pay.
What You Pay

Preventive

Unless your health plan has "grandfathered status", most of our plans cover preventive care at no cost.

Diagnostic

If you have a copayment-only plan, you will pay a copayment for your diagnostic care.

If you have a deductible, you will have to pay for everything up to the amount of your deductible before your plan pays for the service. This is called "meeting" your deductible. You only need to meet your deductible once during the plan year.

If you have co-insurance, you will have to pay for a portion of expenses you are responsible for after you pay your deductible. This is usually a percentage of the total cost of care.
Log in to your Member Central account to view your specific plan information.