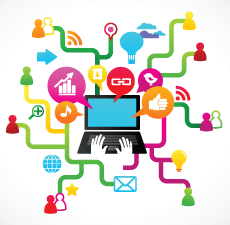 Thanks to cell phones, the web, and social communities, like Twitter, you have many ways to connect with us and other Blue Cross Blue Shield members. Be sure to check out these new ways, because each offers different benefits to make your life healthier—wherever you are.
My Blue CommunitySM
There are times when you really want the support and guidance that only someone who understands your situation can offer. Perhaps you're preparing to run your first marathon. Or you want to make a gluten-free birthday cake. Or you can't wait to share a diet tip.
These are all perfect reasons to log on to My Blue Community, our free online health and wellness social network for healthy-minded people just like you! With more than 52,000 conversations already underway on numerous topics from thousands of other Blue Cross Blue Shield members, you'll be sure to find a chance to connect with others that have similar interests or concerns.
You can ask a question, search for information, share your opinions, and trade tips with other members and content experts. You'll also find a wide range of wellness topics and blogs, covering everything from expert nutritional advice to how to get a good night's sleep.
Tweet Us on Twitter
Twitter is a fast and easy way to contact Member Service. You can ask questions, get health-related tips, learn about new discounts, and find out how to get more out of your health plan.
You can reach Member Service on Twitter at @BCBSMAservice during normal business hours, Monday through Friday, 8:00 a.m. to 6:00 p.m., ET. Tweet us anytime, and we'll reply as soon as possible the next business day.
Contact Us Anytime
No matter what time of day or night you have a question, you can always contact us using our
secure inquiry form. To ensure your privacy and security, we'll ask you to answer a few simple questions. After you reply back, you'll receive a prompt reply to your question or request within one business day.